Cloud-native infrastructure is revolutionizing the way 5G networks meet the challenging demands of ultra-low latency, high bandwidth, and massive connectivity. This development offers remarkable scalability, flexibility, and agility. The telecom carriers and solution vendors supporting them have embraced cloud-native practices, propelling the adoption of 5G. However, it is important to be aware of potential pitfalls in this domain. Some of these challenges are outlined below:
Cloud-native infrastructure technology is constantly advancing, with Kubernetes and other Container-as-a-Service (CaaS) layers playing a crucial role. While these technologies have made significant progress in meeting the requirements of Telco applications, there are still areas where further evolution is needed. In order to address these gaps, it is best for the industry as a whole to develop open-source standard interfaces rather than relying on vendor-specific solutions.
In the near future, Telcos are planning to deploy numerous Edge Cloud nodes to support the implementation of cloud services and RAN (Radio Access Network). Despite the advantages offered by cloud-native infrastructure, Telcos require a consistent computing platform that can efficiently share hardware and connectivity resources among various telco and edge applications.
However, if the Telco industry continues with its traditional deployment approach, it will inevitably lead to fragmentation when deploying applications that rely on proprietary CaaS solutions and specific physical compute requirements. Such fragmentation of the cloud layer results in increased complexity for both vendors and operators. Vendors must develop their Network Functions (NF), or application layer, to be compatible with multiple cloud layers, including proprietary solutions from vendors and operators. Meanwhile, operators may find themselves managing multiple infrastructures, further adding to operational complexities.
Convergence of Cloud Layer
The convergence of the cloud layer is a key solution in the Telco industry. By achieving convergence, all players in the industry can experience reduced fragmentation and improved operational efficiency.
To fully capitalize on the advantages offered by Cloud Native, it is essential for the cloud layer to align with established cloud-native technologies and operating practices. Specifically, the target architecture should be built upon automated deployments of multi-cluster Kubernetes on Bare Metal infrastructure. This infrastructure should be managed using a GitOps approach, which includes implementing Infrastructure as Code principles.
In order to tackle the challenges associated with telco and edge use cases, a collaboration has been established among five European carriers (Telefonica, Telecom Italia, Orange, Vodafone, Deutsche Telekom) and two vendors (Ericsson and Nokia). This collaboration takes the form of the Sylva project, which aims to address these challenges not only within the European Union but also globally.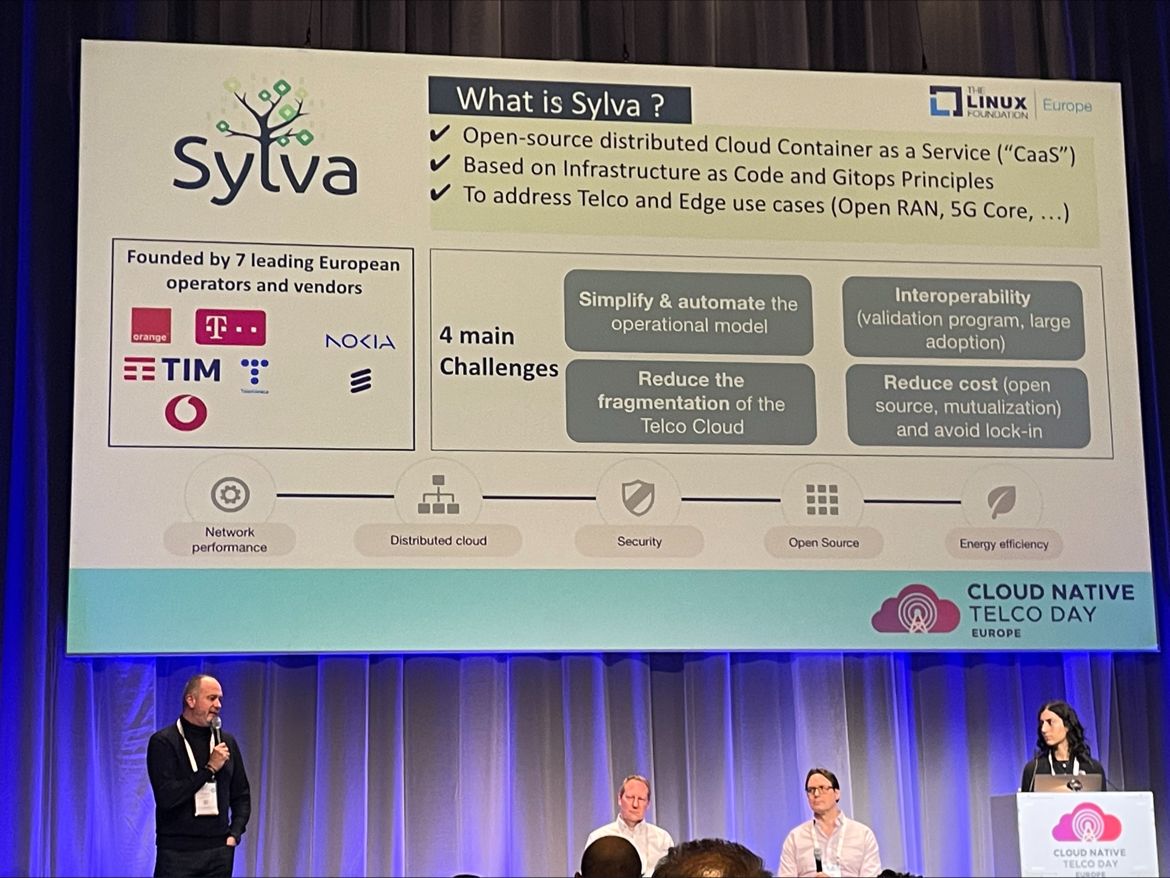 The Sylva project introduces a unified approach to hosting 5G deployment applications, spanning from the Core to the RAN. This approach plays a crucial role in promoting innovation for comprehensive digital transformation efforts. The project works in conjunction with the LF Networking and LF Edge communities, leveraging their existing work.
The project will release open-source solutions that incorporate the necessary capabilities for a Container-as-a-Service (CaaS) platform to address specific use cases identified by European Telcos, including 5G, O-RAN, and Edge applications. These releases will establish a common infrastructure framework among European operators, facilitating the federation and integration of edge applications. By adopting this common framework, both operators and network function vendors will be able to demonstrate that their functionality can seamlessly operate on a general-purpose infrastructure, knowing that it can be deployed on any compliant platform. This approach saves time and costs for both vendors and operators. Furthermore, having a common reference framework will drive digital innovation across Europe, fostering a vibrant digital ecosystem.
The goals of the Sylva project can be summarized as follows:
Provide a cloud software framework: The project aims to release a cloud software framework that focuses on addressing specific requirements. This framework will be developed in a way that allows for seamless integration with existing open-source components. The goal is to produce production-grade solutions that can be utilized in commercial products.

Create a reference implementation: Sylva aims to develop a reference implementation of the cloud software framework. This reference implementation will serve as a blueprint for implementing the framework in practical applications.

Accelerate adoption of network functions: The project will establish an integration and validation program to expedite the adoption of network functions within the cloud environment. This program will ensure that network functions can be smoothly integrated and validated within the cloud software framework, enabling their efficient deployment and utilization.
The Sylva project focuses on addressing several primary technical challenges, which include enhancing network performance, tackling the complexities of distributed cloud environments involving multi-cluster Kubernetes and Bare Metal Automation, improving energy efficiency, strengthening security through hardening and compliance measures, and promoting openness by capitalizing on and contributing to initiatives such as Anuket, Nephio, O-RAN, and others. By addressing these challenges, Sylva aims to optimize network performance, streamline cloud deployments, reduce energy consumption, enhance security measures, and foster collaboration and interoperability within the industry.
Know more about the 5 technical pillars here https://gitlab.com/sylva-projects/sylva
References
https://gitlab.com/sylva-projects/sylva/-/blob/main/White_Paper_Operators_Sylva.pdf